Make an Online Donation to West End Baptist Church

---
Donate via Text from Your Mobile Phone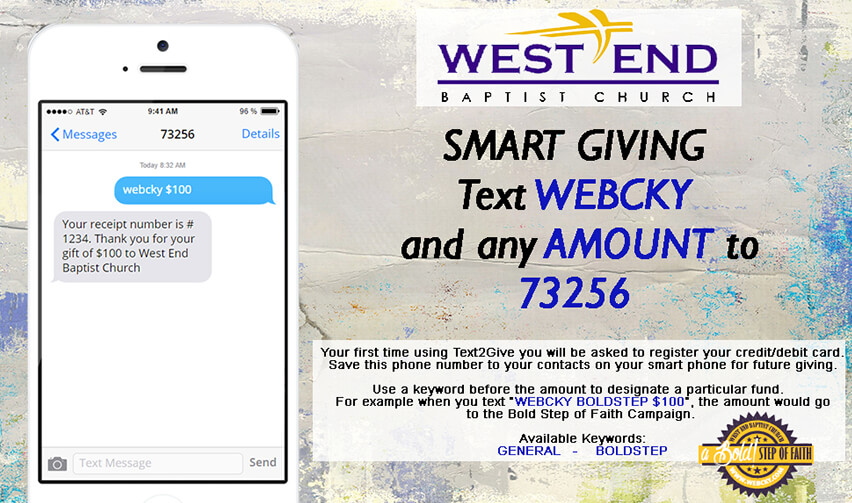 Text "WEBCKY BOLDSTEP" to 73256 to give using your mobile device.
This number will never send unsolicited texts to you. To cancel further messages, text STOP. If you need assistance with text giving, text HELP. Standard text message and data rates may apply.
---
Bold Step of Faith Campaign of Capital Stewardship and Witnessing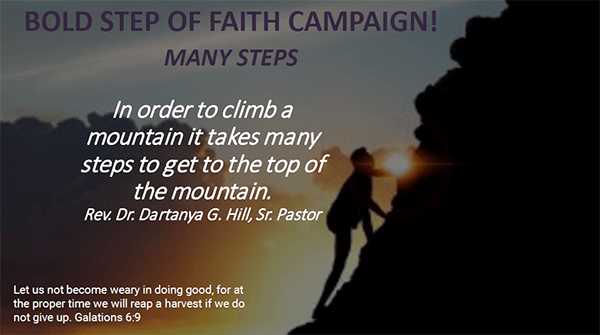 The "Bold Step Of Faith Campaign of Capital Stewardship and Witnessing" officially kicked-off in January 2015, with an initial push to encourage the West End Baptist Church members to commit to giving an amount above their Tithes, those who were not giving or not tithing were encouraged to begin or increase their giving to the point of Tithing. Due to the acceleration of payments by one of our two mortgagors, our Pastor proposed that we pay off our mortgages within five to nine years, rather than 15 to 30 years. The Bold Step of Faith Campaign's goal is to help with early payoff of our mortgages and then to build a Family Life Center: A facility designed to meet the needs of the entire family (from children to the elderly): a gymnasium style ministry facility with convertible space to accommodate education, recreation, large events and child care.

We have already begun increasing our emphasis on witnessing and ministry and will continue to do so. We are going to boldly move forward in fulfilling our church Mission and Vision, and Jesus' Great Commission. Using a Step by Step approach, we are working on Step 1 – Early mortgage payoff within seven years or less. Then we will focus on Step 2 - Building our Family Life Center.
Please feel free to give freely if you are interested in taking part in the Bold Step of Faith program.

---
Memorial Tree Donations
West End Baptist Church is excited to offer you the opportunity to purchase a golden leaf on our beautiful Memorial Tree located in our foyer to honor and memorialize your loved ones and friends who have passed. This golden leaf will exhibit your loved ones' name and other pertinent information in loving memory of them.
These leaves are available at a one-time purchase price of $110.00 which includes the engraving fee and the proceeds will go toward the liquidating of our Church Mortgage. We offer an installment plan for those who would like to pay off their leaf over time. Once your purchase is complete then your leaf will be displayed on our beautiful Memorial Tree for everyone to see.
The Memorial Tree has made a great impact on our church members and friends who have stated that being able to purchase a leaf is a great way to honor and memorialize their loved ones and friends who have passed on to be with the Lord.
One example is Eddie Graves, who resides in Palm Coast, Florida and is the grandson of the Founder of West End Baptist Church, Mollie Graves. He has stated that this has been such a great blessing to be able to honor his grandparents by purchasing a leaf for the each of them and having it displayed on the Memorial Tree.
We are extending this opportunity to everyone who wishes to participate, whether your loved ones or friends have been a member of West End Baptist Church or not. It is open to all.
If you have any questions or concerns, please contact the church office.
We offer two ways in which to make your Memorial Tree Donation
Please click on the button below to place your order or use your mobile phone and Text to Give.
The purchase of your leaf is tax deductible, keep a copy of your order for your records.
---

Use Text to Give to Make a Memorial Tree Donation
Text To Give Instructions
Text: 73256, Type In Memorial Tree, Webcky Memorial Tree $$$
You Will Receive A Confirmation Message
Click The Link In The Confirmation Message To Access The Payment Form
Complete The Payment Form And Verify The Amount And Fund
When Finished, Click Give
You Will Receive A Receipt By Text And Email
Your Payment Information Will Be Saved For Future Gifts!
The purchase of your leaf is tax deductible, keep a copy of your order for your records.
---
Basement Renovation Project
We are appealing for generous support for the renovation and expansion of our basement area that serves meals to our local homeless population. The current space is too small. The stoves that are used are worn out. The kitchen is small for the workers needed to prepare for an average of 150 persons. The storage is inconveniently located from the preparation area making serving this number of persons very difficult.
Click here for more information on this project